Spypoint Force-20 Trail Camera
Entry-level trail camera with high-quality performance capturing impressive 20MP images and HD video.
Read More
Buy now or pay later with
4 x

$75.00

with
Shipping

Currently, Hunting & Fishing New Zealand will only ship to addresses within New Zealand, including outer islands. We do not ship internationally, however our Taranaki store sometimes ships overseas. They can be reached via taranaki.store@huntingandfishing.co.nz or by phone on:06 757 2255. For the majority of orders, we have a $7.50 flat rate shipping fee, $10.00 for rural addresses. For bulky items, additional fees may apply.https://www.huntingandfishing.co.nz/ As some courier companies do not ship to PO Boxes we recommend you provide either a residential or commercial shipping address when placing online orders. Should we be unable to ship to a PO Box we will contact you for an alternative address.

Dispatch

In most circumstances, your order will be dispatched from the store closest to the delivery address you supply us. This means we can keep freight to a minimum and send items up to about 25kgs. Most courier companies charge based on weight or size, generally what is bigger. If we have to send your order from another store, we'll pay any additional freight cost. If you're ordering more than 1 item and the combined weight (or size equivalent) is more than 25kgs we reserve the right to charge additional freight. From time to time we might offer freight specials or even free freight. These offers will also be based on 25kgs.

Damaged or Non-Delivered Articles

If your article is damaged upon arrival please notify us at ask@huntingandfishing.co.nz or by phone on 0800 486 834. If your order has not arrived within 10 days of the dispatch date please notify us immediately on ask@huntingandfishing.co.nz. There is only a small window of opportunity for us to be able to claim for missing parcels with courier companies. Failure to notify us in the above time frames may result in no refund.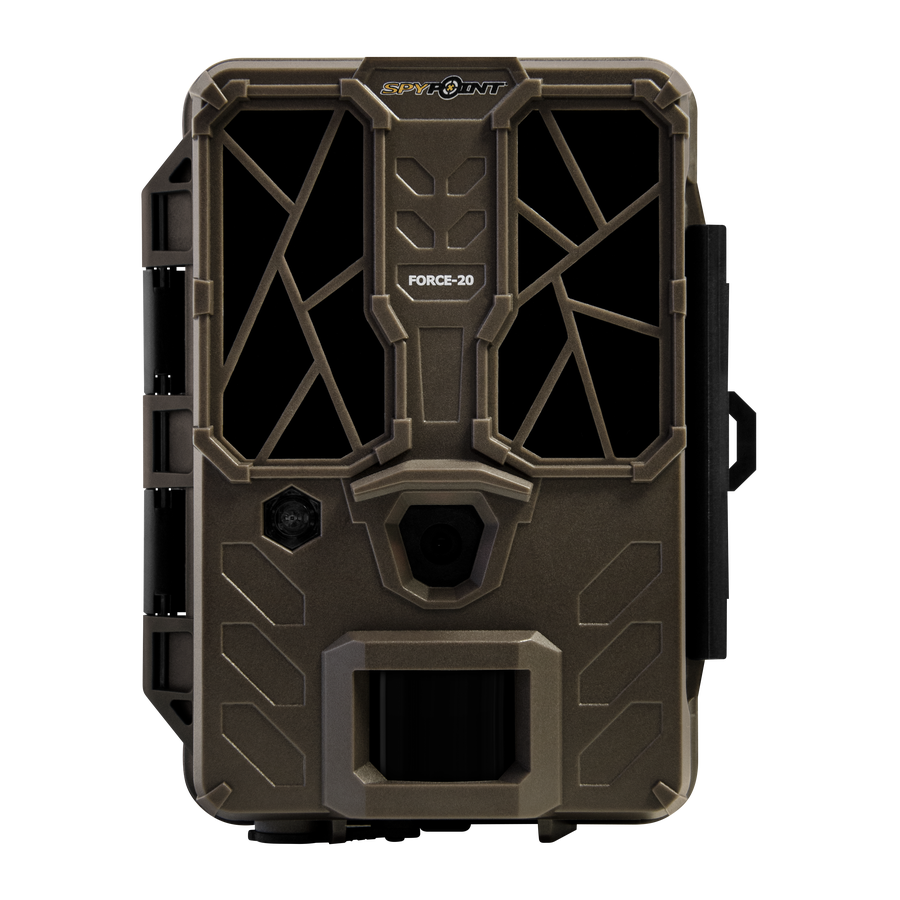 The FORCE-20 Trail Camera | SPYPOINT
The FORCE-20 impresses where it matters, with image quality. Clear photos are the key to making your trail camera strategy a success, and the FORCE-20 delivers. The camera is easy-to-use thanks to the straightforward menu design and user interface. When the thing that matters most is image quality, the FORCE-20 is the right choice. Learn More: https://bit.ly/3a4Dd0S STUNNING IMAGE QUALITY The FORCE-20 delivers what matters. Quality images that allow you to study your game in the detail required to build the plan for your hunt. With 20MP photo resolution, no detail is missed, giving you the advantage. INCREDIBLE NIGHTTIME PHOTOS With 48 LEDs onboard, the FORCE-20 produces brilliant and even illumination so your nighttime photos are as clear and usable as the ones from the day. So much of a deer's life happens when the sun is down, if your trail camera isn't performing at its best when the deer are active, can you really trust your information? SPYPOINT isn't stopping with innovating trail cameras themselves, we're creating a community and benefit system around them with the arrival of the SPYPOINT Insiders Club. Members gain access to exclusive discounts on plans and specific products, advanced scouting tools, and content and giveaways available only to them. If you want to save big and scout smarter, the SPYPOINT Insiders Club is for you. Trigger Speed 0.7 second Flash Range 80 feet Detection Range 70 feet Resolution 20MP Modes Photo, Multi-shot, Time-Lapse, Video Don't forget to like and share the video! If you want to be sure not to miss a new video, subscribe and tap the bell icon next to the subscribed button. You can follow us on: Facebook: https://www.facebook.com/spypoint/ Instagram: https://instagram.com/spypointcamera/ Twitter: https://twitter.com/spypointcamera Website: https://www.spypoint.com/EN/
00:49
Product Details
Don't miss any detail with the Spypoint FORCE-20 trail camera. This entry-level trail camera captures images at an impressive 20 megapixels. The straight-forward interface is intuitive and easy to use, letting you get it into the field quickly, and start monitoring your game.
The FORCE-20, as its name suggests, offers 20 megapixels of definition for super-clear images that allow you to examine every detail it captures. When detail in images is important, the FORCE-20 offers the resolution and clarity to do the job.
The FORCE-20 also features multi-shot, time-lapse, and video modes. The multi-shot mode can capture up to five images per detection, and the time lapse schedule can be programmed to your specific time preferences.
The FORCE-20 uses 48 low-glow LEDs to capture IR images during night-time photos, so even when ambient light is poor, you get the image quality you need.
PHOTO
| | |
| --- | --- |
| Illumination technology | Infrared boost |
| Multi-shot mode | Up to 5 pictures per detection |
| Time-Lapse Mode | Yes |
| Continuous Mode | Yes |
| Stamp on pictures | Date, time, moon phase and temperature (°C/°F) |
| Photo type | Colour by day, infrared by night |
| Screen | 1.5" configuration |
| Trigger Speed | 0.7 s |
| Flash range | < 80 ft (24 m) |
| Number of LEDs | 48 |
| Definition | 20 MP |
VIDEO
| | |
| --- | --- |
| Video Definition | HD (720p) |
| Sound Recording | No |
MEMORY/POWER
| | |
| --- | --- |
| External Power | DC 12V Input |
| Power | 8 alkaline AA batteries (not included) |
| Memory Card | Requires an SD/SDHC card up to 32 GB (SD card 16 GB included) |
OTHER
| | |
| --- | --- |
| Detection Distance | Up to 70 ft (21 m) |
| Motion Sensor | 1 sensor covering 3 zones detection |
| Mount | Standard ¼"-20 tripod |
| Dimensions | 9.6 cm W x 12.7 cm H x 5.1 cm D |