Spypoint Link-S-Dark Cellular Solar Trail Camera
Onboard solar charging system and cellular capability for the ultimate in trail camera technology.
Read More
Buy now or pay later with
4 x

$225.00

with
Shipping

Currently, Hunting & Fishing New Zealand will only ship to addresses within New Zealand, including outer islands. We do not ship internationally, however our Taranaki store sometimes ships overseas. They can be reached via taranaki.store@huntingandfishing.co.nz or by phone on:06 757 2255. For the majority of orders, we have a $7.50 flat rate shipping fee, $10.00 for rural addresses. For bulky items, additional fees may apply.https://www.huntingandfishing.co.nz/ As some courier companies do not ship to PO Boxes we recommend you provide either a residential or commercial shipping address when placing online orders. Should we be unable to ship to a PO Box we will contact you for an alternative address.

Dispatch

In most circumstances, your order will be dispatched from the store closest to the delivery address you supply us. This means we can keep freight to a minimum and send items up to about 25kgs. Most courier companies charge based on weight or size, generally what is bigger. If we have to send your order from another store, we'll pay any additional freight cost. If you're ordering more than 1 item and the combined weight (or size equivalent) is more than 25kgs we reserve the right to charge additional freight. From time to time we might offer freight specials or even free freight. These offers will also be based on 25kgs.

Damaged or Non-Delivered Articles

If your article is damaged upon arrival please notify us at ask@huntingandfishing.co.nz or by phone on 0800 486 834. If your order has not arrived within 10 days of the dispatch date please notify us immediately on ask@huntingandfishing.co.nz. There is only a small window of opportunity for us to be able to claim for missing parcels with courier companies. Failure to notify us in the above time frames may result in no refund.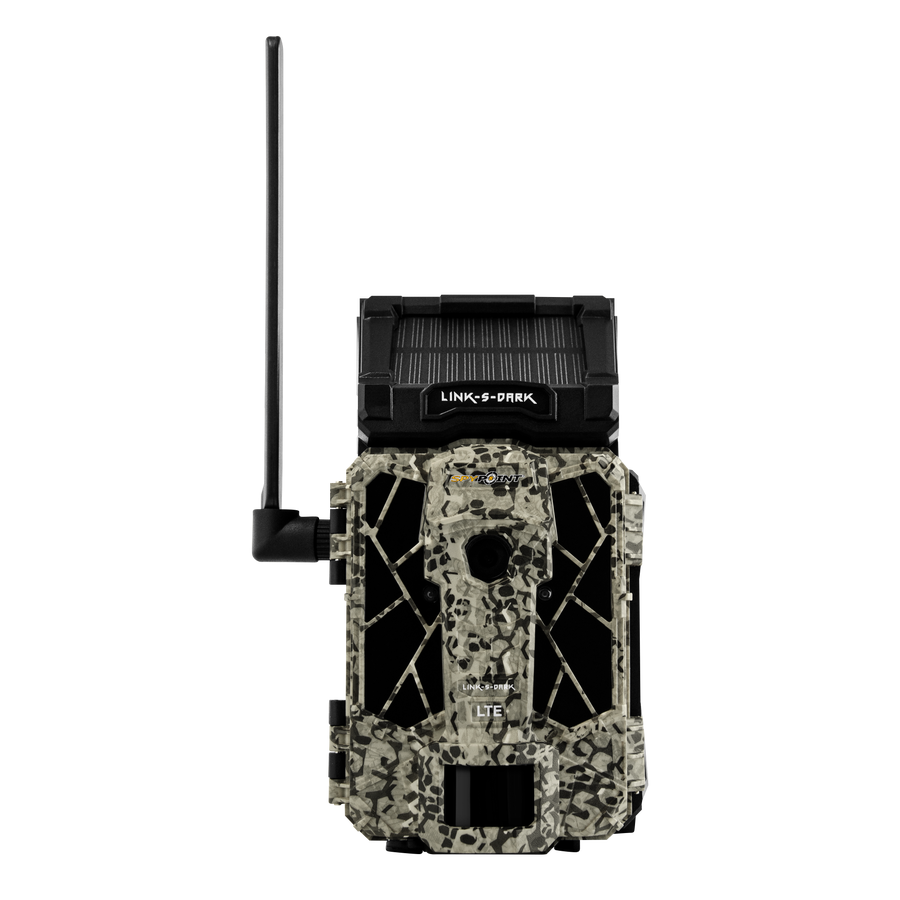 The LINK-S-DARK Solar Cellular Trail Camera | SPYPOINT
The LINK-S-DARK is a trail camera like no other, because so much of what the camera offers is only available from SPYPOINT. Integrated solar panel and lithium battery technology delivers an all-in-one unit with incredible battery life. Couple that with the fastest trigger speed available in a trail camera, and the Hybrid Illumination Technology (HIT) flash system that lets you customize your flash, and you have an absolute powerhouse of a trail camera taking your scouting to new levels. Learn More: https://bit.ly/3scIJVg NEVER BUY BATTERIES AGAIN Integrated solar panel technology from SPYPOINT completely changed the traditional view hunters had of solar trail cameras, with wires running everywhere and more things mounted on the tree, to a complete, compact, all-in-one unit that still harnesses the power of the sun to keep trail cameras working for months on end. This integrated panel, paired with the internal rechargeable lithium battery takes your camera battery life to lengths you never imagined possible. CUSTOMIZE YOUR FLASH The HIT flash system allows you to choose the flash setting that works best for where you place your camera. Choose from a no-glow setting, for maximum concealment, optimal for a balanced lower-glow functionality, boost for a traditional low-glow flash, or blur reduction to reduce the motion blur of nighttime photos when game is on the move. SPYPOINT isn't stopping with innovating trail cameras themselves, we're creating a community and benefit system around them with the arrival of the SPYPOINT Insiders Club. Members gain access to exclusive discounts on plans and specific products, advanced scouting tools, and content and giveaways available only to them. If you want to save big and scout smarter, the SPYPOINT Insiders Club is for you. www.spypoint.com/insiders Trigger Speed 0.07 second Flash Range 80 feet Detection Range 100 feet Resolution 12MP Modes Photo, Multi-shot, Time-Lapse, Video Network LTE Don't forget to like and share the video! If you want to be sure not to miss a new video, subscribe and tap the bell icon next to the subscribed button. You can follow us on: Facebook: https://www.facebook.com/spypoint/ Instagram: https://instagram.com/spypointcamera/ Twitter: https://twitter.com/spypointcamera Website: https://www.spypoint.com/EN/
01:08
Product Details
The LINK-S-DARK from SPYPOINT marries two of the most innovative features SPYPOINT has to offer, the onboard solar charging system and HIT flash system, into one cellular camera. The result is one of the most feature-rich cameras hunters have ever seen. For spots you want to scout, but not visit, the unique feature mix of the LINK-S-DARK lets you.
The LINK-S-DARK uses an integrated solar panel and on-board lithium battery to stay powered for months on end, with the need to use or replace a AA power source. While all cellular cameras let you avoid visiting the camera for card pulls, the LINK-S-DARK offers the best, most reliable, most compact power solution to keep you informed on the area, without visiting it to spook game or leave scent behind.
The LINK-S-DARK also uses the fastest trigger speed available, a lightning-fast 0.07 second, to ensure fewer photos taken by the camera are empty frames without game. Because of the fast trigger speed, the camera comes out of sleep mode and captures a photo faster, meaning you get a glimpse of that elusive buck that survived last year, instead of an oak sapling.
CELLULAR/WIRELESS
| | |
| --- | --- |
| Network | LTE |
| SIM Card | Pre-activated included |
| Photos transmission | Yes |
| GPS Geotag | Yes |
| Camera fully configurable | via the SPYPOINT App |
PHOTO
| | |
| --- | --- |
| Multi-shot mode | Up to 2 pictures per detection |
| Continuous Mode | Yes |
| Illumination technologie | No glow, optimal, boost, blur reduction |
| Stamp on pictures | Date, time, moon phase and temperature (°C/°F) |
| Photo type | Colour by day, infrared by night |
| Screen | 2" Viewing screen |
| Trigger Speed | 0.07 s |
| Flash range | < 80 ft (24 m) |
| Number of LEDs | 42 |
| Definition | 12 MP |
VIDEO
| | |
| --- | --- |
| Video definition | HD (1080p) |
| Sound recording | Yes |
| Photo first | Yes |
MEMORY/POWER
| | |
| --- | --- |
| External Power | DC 12V Input |
| Power | 8 alkaline AA batteries (not included) |
| Memory Card | Requires a SD card (not included) up to 32 GB |
OTHER
| | |
| --- | --- |
| Detection Distance | Up to 100 ft (30 m) |
| Schedule Setup | 7 days |
| Motion Sensor | 1 sensor covering 5 zones detection |
| Mount | Standard ¼"-20 tripod |
| Dimensions | 9.6 cm W x 17.5 cm H x 9.9 cm D |