SWAMP COMP HEROS
The 2021 Swamp Comp delivered another record year with 3054 tails counted. The $35,000+ prize pool was also a record resulting in prizes for almost all participants.
There are plenty of people out there who call themselves conservationists. They talk the talk, but do they walk the walk?
New Zealand waterfowl hunters on the other hand can be considered conservation heroes. With actions rather than words they have addressed where they could, the tragedy that has resulted in 90% of this country's wetlands drained. Sitting in a maimai for extended periods makes hunters, more than most others, appreciate the habitat and wildlife that calls our swamps, rivers, lakes and other wet areas, home. Hunters were ahead of the times when, many years ago, they initiated wetland restoration and pond subsidy schemes. Frustrated that DOC's predator control focus was around the 'glory species' such as Kiwi, Kakapo, Blue Duck, and other forest dwellers, and that Fish & Game was not resourced sufficiently to control predators around wetlands, hunters rolled up their sleeves and got on with it. Hunting & Fishing New Zealand has played a big part by facilitating the Swamp Comp, the hunter driven project that encourages predator control particularly around wetlands. Knowing our customers have the smarts as hunters, we figured they could do a great deal of good if they became the volunteer army 'mobilised' to target predators. We called upon our Trade Suppliers to support this initiative by sponsoring prizes which would reward the hunters' efforts. Sure, hunters benefit by an increase in the success of gamebird breeding, but so too do all the fully protected species like Bittern which are, according to DOC, more endangered than Kiwi.
It's our intention to keep building on the success of the Swamp Comp. We'll advise the 2022 prize pool in our Spring edition of Hunting & Fishing New Zealand, but until then, get trapping stoats, ferrets, and weasels, freeze the tails, then bring these into our stores for counting in November. Entry is free, there are virtually no rules as to how and where you hunt or trap. We encourage the focus on wetlands but do understand that a predator removed from any habitat could roam to target wetland species during their breeding season.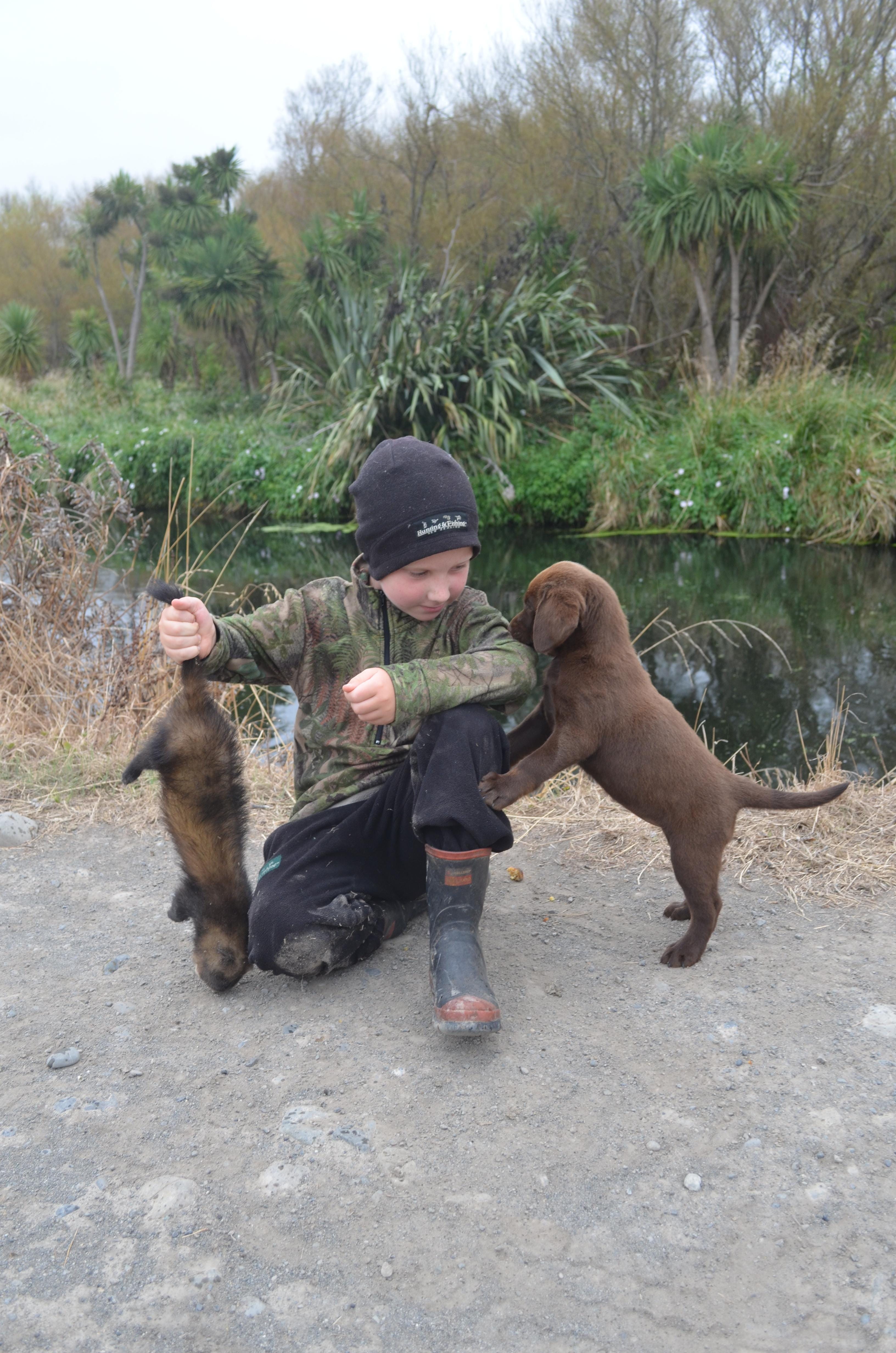 Ben Gillett (then aged 6)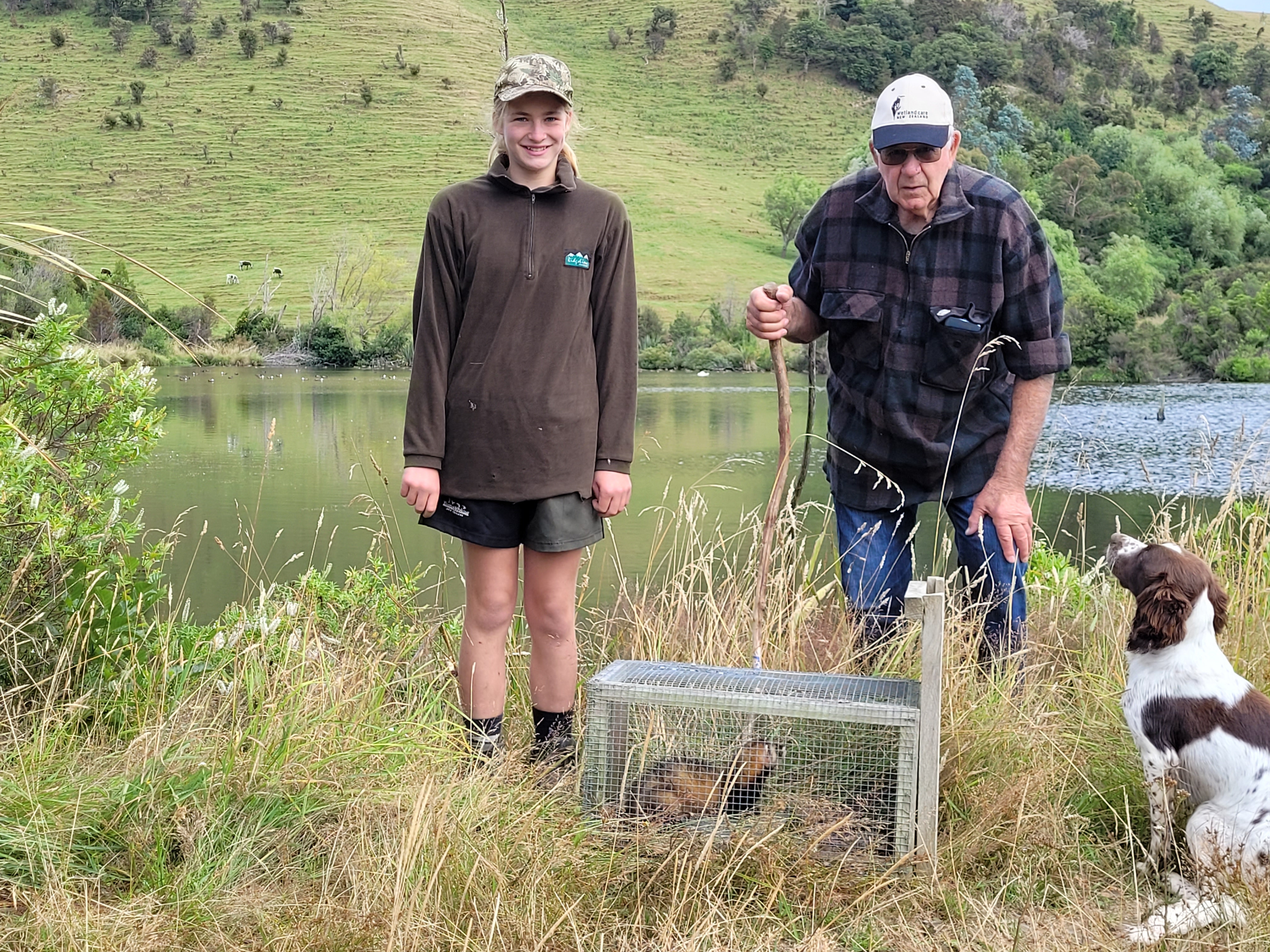 Piper Campbell, teamed up with her grandfather Jim, firstly builing predator traps as a school project, before entering 25 tails caught around wetlands on their Wairarapa farm.
An important message we emphasize to our customers, especially those who do not have the access or time to get out trapping themselves, is to support the sponsors. When the sponsors see their donated prizes encouraging those who can, to get out trapping, and they also see an increase in sales as a result of you, the customer, prioritizing their brands, their ongoing support is assured. Outdoor Outfitters with an outstanding contribution of 140 prizes totalling $9328, need a special mention. So too does Hunting & Fishing New Zealand which over and above covering all the admin costs, provided $4200 in gear from Avery, Higdon, Moultrie, Zamberlan, Banded and others.
By Andy Tannock
Hunting & Fishing New Zealand, Founder
SWAMP COMP HEROS
Generous support was also received from Cupped Wing Duck Calls, Garmin hand held GPS's, Zempire camping gear, Steiner binoculars, LED Lenser headlamps, Domex sleeping bags, Winchester chilly bins, Goodnature predator traps, Yeti ice boxes, Rab and Klymit sleeping bag and mat, Bushnell binos, Dirty Dog eyewear, Yukon binoculars, Ridgeline outdoor apparel and accessories, Svord knives, Huntech clothing, Dometic icebox, Peltor ear muffs, Black Diamond headlamps, Snowbee waders, Stealth scope and spotlight, Hunters Element pack, Stoney Creek jacket, GME radio, Fin Grip bike/rifle racks, Watersnake life jacket, Kaiwaka Jacket, Flambeau hunting accessories, Back Country Food packs, Under Armour Base gear, Warthog knife sharpener, Styx Mill Oilskin vest, Gerber multi tools, Hutchwilco life jacket, plus MaxLife battery packs!